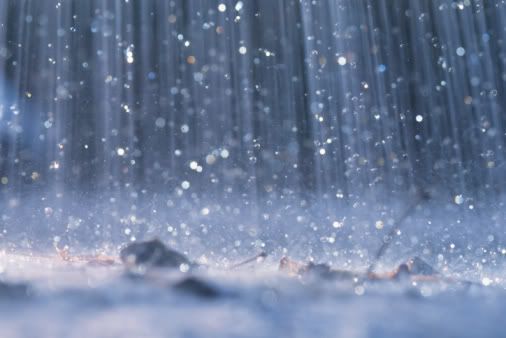 We have survived it. Penny, who is 2 and 1/2 and completely housebroken, has been known to have accidents on occasional rainy days because she's afraid to get her dainty paws muddy. Needless to say, this was a minor concern of mine when moving to Oregon, which is, as my psychopathology teacher put it, "the capital of sad" (seasonal affective disorder) due to the buckets of rain all year long. I think I may have actually been suffering from "rad" (rain anxiety disorder), but now that we made it through day one I'm feeling better. There were no accidents, and the dogs were still happy to go for a walk in the wet, muddy, outdoors. (It was not actually raining while we were on our walk so that will be a hurdle for another day.) I will keep you all updated on how my dogs and I are dealing with the remainder of the rainy season(s).
In other news... I did yard work! Yes, that's right folks, I raked leaves, picked weeds, and put sod in my little yard! This was all in preparation for the phenomenon described in the previous paragraph. I actually did all this on Sunday, but then I had some deep thoughts that took blogging precedence over my hard labor. The people who lived here previously clearly had no interest in having a remotely attractive or even functional outdoor space. So... the yard was fairly gross, and I would not have blamed my dogs if they did not want to go out there to relieve themselves. So I tried to make it a little nicer to motivate them to go out there despite the scary scary rain. I am very proud of this accomplishment. I was afraid that when I asked about the sod at Home Depot that they would look at me a little like they look at me at the mechanic when I try to describe to them what my car has been doing ("it's kind of like a growl, but not so loud, maybe like a purr? But in a bad way, you know, not like a kitten. Because kittens purring are really cute, this is more of a concern...") Sod, apparently, is not as complicated as my engine. The next day I was actually sore in muscles I didn't even know I had, but it was worth it. The yard is looking much better.
I will leave you with my recent favorite tidbit from my work life with the kiddos:
Me: How old are you, Mia? (Her height and vocabulary make her seem about 4, but she has only recently conquered toilet training)
Mia: Two. I'll be three in a few weeks. Ok?
Me: (Laughing) Ok.
Later in the evening...
Mia: Do you have children?
Me: No, I don't.
Mia: I could buy you some. I have some money.
Me: (Laughing) Thanks, Mia.
Also, to clarify: Seasonal Affective Disorder is an actual diagnosis. Rain Anxiety Disorder is not. But if you could choose a diagnosis to have, wouldn't you like to be RAD?