Today is Rocky Raccoon's first birthday. My sweet, spazzy, hilarious little Dachshund/Chihuahua/Jack Russell has been alive for 365 days. He makes me laugh every day, he can jump higher than a dog his size should, he is oh-so-loyal (and miserable without me) and he always has kisses to spare (sometimes inappropriately, but who's judging?) I am so grateful to have him and Penny Lane in my life when I have a hard day, or I'm feeling lonely, or when I just need a snuggle. So happy birthday to my little "Spazzy Pants," as I like to call him (even though he does not wear pants). Here are a few pictures of the day I brought him home and introduced him to Penny, and one recent one.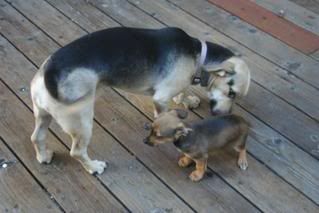 Checking each other out.
Penny was nervous to play at first - Rocky was all about it.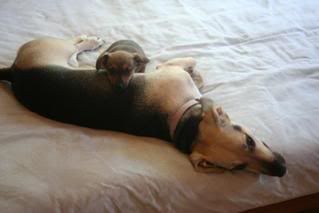 About 20 minutes after meeting each other - fast friends.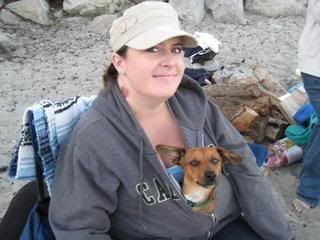 Me and the Spaz.