Beauty.



How do you feel when you think of that word?

Enthralled?

Excited? Proud? Insecure?

Disappointed?

Restentful?



My guess is most women land in the category of the last few adjectives. I know I often do. But guess what?

I am beautiful.

And so are you.

In a previous post, I quoted John and Stasi Eldrige from their book Captivating: "Many of us have hardened our hearts to this desire,

the desire to be the Beauty

. We have been hurt so deeply in this area that we no longer identify with, perhaps even resent, the longing. But it's there. We desire to possess a beauty that is

worth pursuing

, worth fighting for, a beauty that is core to

who we truly are

. We want beauty that can be seen; beauty that can be felt;

beauty that affects others

; a

beauty all our own to unveil."

This quote, along with the majority of the book, spoke to my utterly feminine and romantic heart.

In a recent conversation with a male friend, he

wondered aloud

(out of curiosity, not meanness) at the insecurity that many women possess. He compared the compliments that he gives women as very

carefully wrapped gifts

, that women just throw in the proverbial garbage can by saying "oh no, that's not true."

This friend of mine is not the only one who feels hurt by a woman's lack of self-worth. Our creator, our king, is

enthralled by our beauty

. (Psalm 45:11) He gave it to us, in place of ashes. He wants us to own it, to rejoice in it, and in Him. You are a

daughter of a King

, which makes you a princess. And He

thinks YOU

are beautiful. His opinion is the only one that matters, in the end.

Remind yourself

of that when you need a little self-confindence boost. I do.
Read other women's thoughts on beauty on Sarah Markley's blog this week.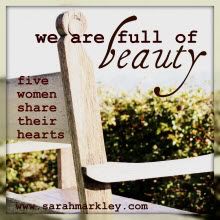 Subscribe in a reader